Elisabeth Muhr
The founder of Hallstein Water describes her family's near 20-year scientific quest to source, bottle and distribute their premium artesian water.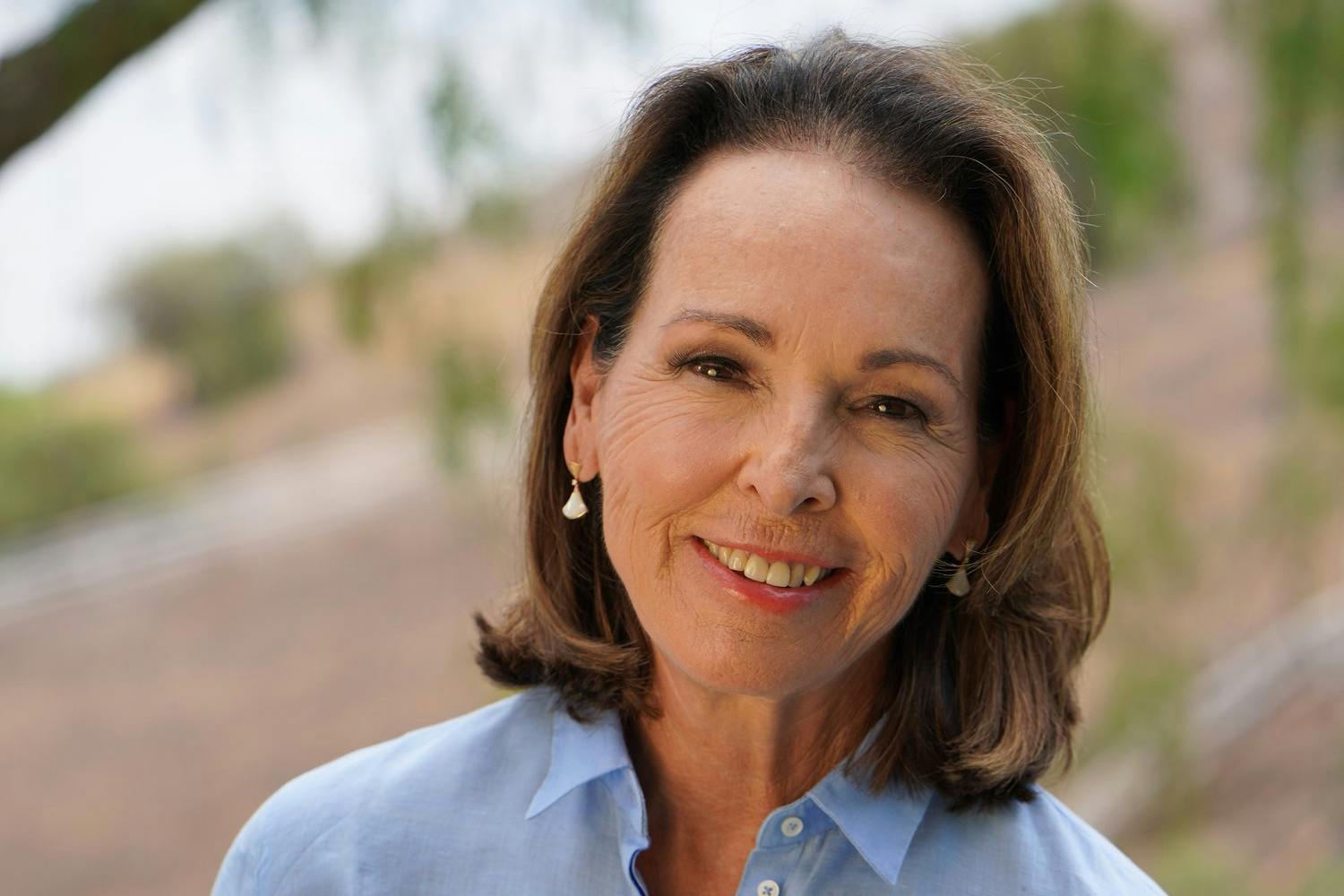 Many entrepreneurs harbour ideas for years before hatching their business but how many can say they spent close to two decades on global scientific research – not to mention a considerable amount of money – before finally pushing their product to market?
But Elisabeth Muhr, her husband Karlheinz and their grown-up children – Alexander, Phillip and Stephanie – aren't your typical start-up business owners. Their international quest to find "the best water to drink" didn't start as a potential business venture but as a dinner table discussion to persuade the then-teenage siblings to stop drinking sugary drinks.
In the years that followed, the Muhrs would learn about water quality standards (and lack of), define acceptable parameters for drinking water and seek to source their prize. To their surprise, they would strike liquid gold (metaphorically speaking) not in their adopted homeland of America but when they discovered a natural artesian aquifer hundreds of meters deep within a layer of rock in the Hallstatt region of the Austrian Alps – the country where Elisabeth and Karlheinz grew up. It would lead them to found premium artesian water brand Hallstein Water.
"The idea came about in 1999 after my husband attended a series of talks on how sugar can cause inflammation in your body and cells to age faster, increasing the probability of latent diseases," says Elisabeth.
Her children needed a reason to accept their parents' request to no longer drink sugary drinks. But what should have been a challenge worthy of a high-school science project, soon turned into an investigation that would take the family on a scientific and geological research expedition across the world.
Fortunately for them, they had a mother with a keen interest in the environment and a background in engineering.
As a child growing up in the Tyrolean countryside, Elisabeth had delighted in seeking out creeks and learning how to dam the water so she could float her dolls on miniature boats at speed. In her teens she dreamt of becoming an architect but was warned by her father that – in those days – a woman would have to choose between a career in the male-dominated world of architecture or having a family. Putting her architectural aspirations aside, she followed in her father's and her grandfather's footsteps into engineering.
Yet Elisabeth's childhood interest in exploring how to alter the speed of flowing water would serve her well, as she graduated from the University of Natural Resources and Life Sciences in Vienna with a degree in ecology and environmental engineering. It was at a ball in the capital that Elisabeth would meet her future husband, Karlheinz, a fellow Austrian, who is now executive vice chairman of Global Corporate & Investment Banking at Bank of America Merrill Lynch. They would discover that both were soon to move Stateside. Karlheinz to study for his MBA, while Elisabeth, who is a specialist in hydropower plants, went on to teach at California Polytechnic University in Pomona. Later, agreeing to his request that she remain in the US for longer, and having secured a role in planning the Los Angeles Olympics, Elisabeth and Karlheinz would later be married, have a family and call America home.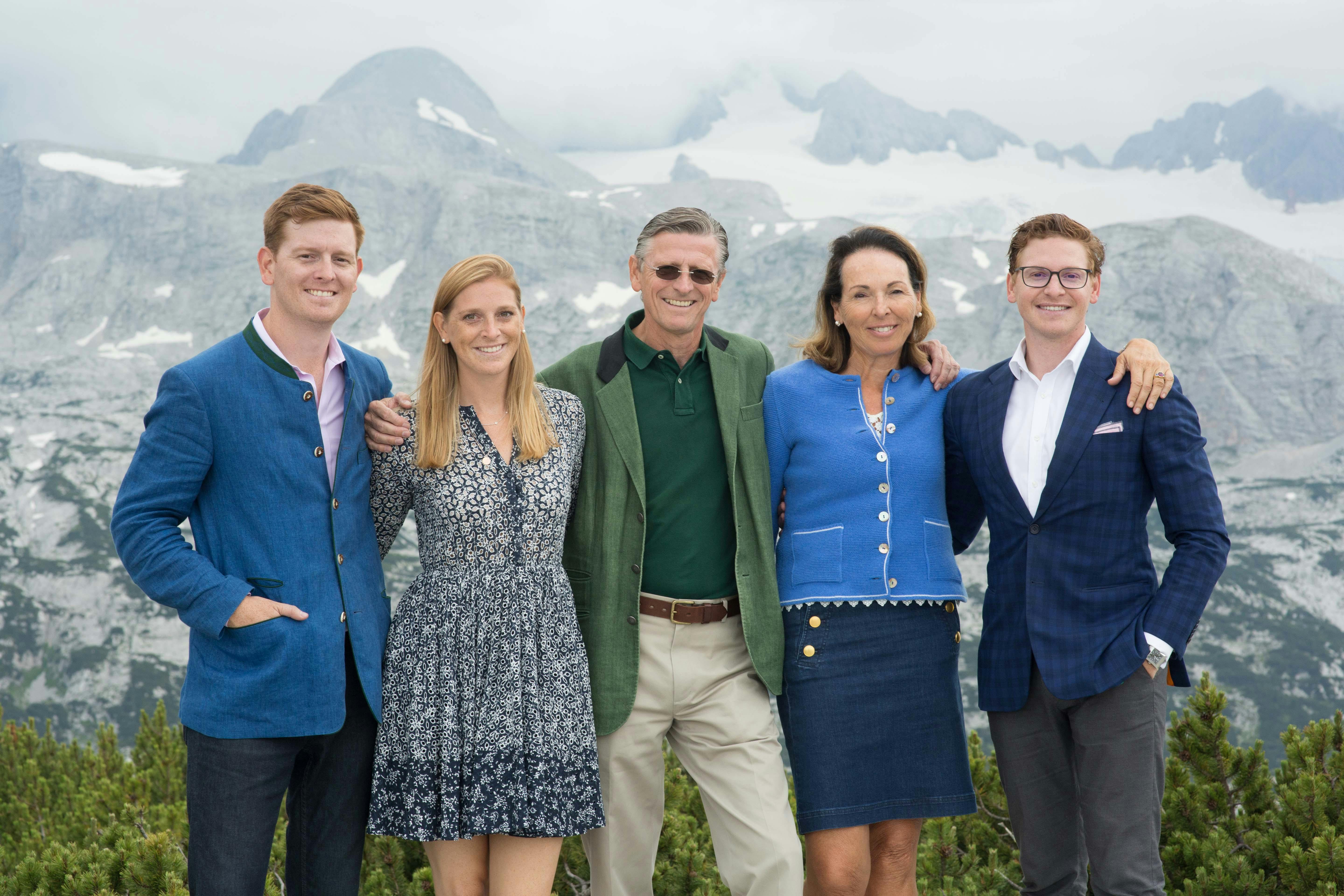 Fast forward several years to that dinner table conversation in Connecticut and the family's search.
"We bought various brands of bottled water," says Elisabeth. "Looking at the labels we thought that we would be able to figure out the defining differences of different water qualities. But we quickly found out that there was only the smallest amount of information – usually on how much sodium was in the water – and it never said anything about the essential quality of that water."
"We thought there must be a standard for water because water is so important to us as humans and without it you can't function more than a couple of days. But there isn't. And to this day, there is no official highest standard. So we had to create one."
Undeterred the Muhrs enlisted the help of water experts, scientists, doctors and nutritionists to find the standard for the highest quality water. From their research they were able to establish eight core parameters and four secondary parameters for defining the ultimate drinking water quality – including levels of pH, sodium, nitrates and oxygen – which they've termed the Hallstein Octagon.
Using these criteria, the family tasked scientists with testing water from a large number of sources under laboratory conditions.
"We were shocked to discover that all these waters had a horrible, abysmal, standard quality. A lot of the substances in the water aren't regulated and can be harmful in large quantities. I had assumed that the regulators were looking out for my best health interests and wound't allow the substances to be there, but they did. We were so startled that we decided to find the well with the perfect water."
In what was fast becoming an "expensive family hobby", the Muhrs commissioned hydrologists to help locate certain patterns of geological folds where they might find wells that might contain the perfect water they desired.
Elisabeth speaks with such authority about contamination, limestone, copper and oxidisation that it's clear that this was as much an enthusiastic quest as an opportunity to learn.
"It was very important that it was uncontaminated limestone. But contaminated does not mean that this is poisonous. In geology, it means that it's a pure limestone without bands of iron or copper. For instance, when you go on a hike, you see often in the stones bands of different colours of stone. And if it's green its copper and red is iron and the water that was flowing, through oxidised it. What it does is depletes the water from the oxygen, so the oxygen that's loosely or is abandoned in water gets sucked up from the from the copper or the iron or other substances in terms of biological substance.
"Oxygen wants to combine with other substances to oxidise and if the limestone is pure, it does not deplete the water from the oxygen, but it enhances it with magnesium and calcium. So that's one thing easily understandable."
What was also important in terms of the geological environment that the family sought was glacial activity. As a glacier moves, it grounds the stone underneath through its immense weight to a compacted layer called a moraine.
"The ground up stone acts like a lid on the underlying folds like natural concrete, so the environmental pollution cannot trigger or seep through to the aquifer," says Elisabeth, explaining that an aquifer is a body of sediment underneath the surface where the water flows and is constantly replenished.
Elisabeth adds: "An aquifer is not a lake, it is actually like an underground river."
Thirdly, they needed an artesian well – meaning that water would reach the surface through its own pressure without the need for pumping.
"This is important because as soon as you start pumping water it immediately changes the makeup of the water and the potential power of the water in your body. The energy that the water naturally has if you start treating it, changes it. That's what we didn't want. It was very, very important that the water came from a very deep, protected artesian well."
Five years after the family's initial conversation, they received independent reports from American universities and an oil and gas exploration companies whose services they'd enlisted which suggested the location of a deep, protected artesian well. Each of them pointed to a very small area, not in North or South America as the Muhrs had expected, but in the family's homeland of Austria.
"At first, we thought that they were pulling our leg and making a joke. But no, there is a glacier, which is a geological phenomenon called the Hallstatt-Dachstein limestone. It lies in a Uneseco World Heritage Site. Hallstatt is called with 'cradle of the Celts' with 7000 years of human history there."
The land is owned by Austria's forestry service but the family negotiated the right to drill, with Elisabeth's engineering background serving them well in the careful negotiations.
"It's very expensive and at 215 metres we struck an aquifer. The water shot up. It was just incredible," says Elisabeth, likening the experience to pushing down on a French press. "Imagine drilling a hole in the top of the lid and watching the liquid spurt out."
Liquid that had begun as raindrops in the mountains and after an eight-year journey through layers of limestone arrived in the aquifer.
"We tested the water for over a year. And the quality was exactly what we wanted to have. It stayed stable, rich in oxygen, no nitrates, no environmental pollution, no microplastics, no PFAS [Perfluoroalkyl and Polyfluoroalkyl Substances], no antibiotics."
The tests confirmed that the water at the Dachstein well was suitable for bottling and that the aquifer is constantly replenishing. It has also never been exposed to atmospheric contamination, does not impact other water sources and the water is stable, with no change to its make-up over time.
Having enjoyed the water themselves – and assured of its benefit to their health – the family began serving to friends at dinner parties. The positive response was enough for the family to investigate if it would be viable to produce the water commercially.
Once again they drew upon their appetite for persistence by negotiating 57 permits, a 99-year lease with the forestry service and the building of a state-of-the-art bottling facility within the picturesque environment.
"Sustainability is a huge issue for us. Our filling plant is in the very end of a valley, and there is basically no other building around," says Elisabeth. "When we leased the land, from the National Forest Service, we very carefully cleared only the smallest piece where the actual building is. We wanted to keep the beautiful area pristine.
"We didn't want to be an eyesore because we are lucky that we found the water and it is sustainable because we don't take out more than comes out naturally. We only harvest what mother nature lets us have."
The system used to bottle the water differs from other water companies too.
"We do not treat the water, there's no UV, no heating, filtering or adding substances. A lot of companies add substances to make it last," says Elisabeth. "Basically, at our plant, the water flows from that wellhead straight into the bottle – and without any touching or moving it because if you move or treat water then you change its makeup.
"We had to find out how to do that – and it's not easy. One of the things which was important is that the water is very cold, the exit temperature is 5.5°C and there are no bacteria in that kind of temperature. But if you have a well and is has a higher temperature, you have to treat it or add substances to remove the bacteria."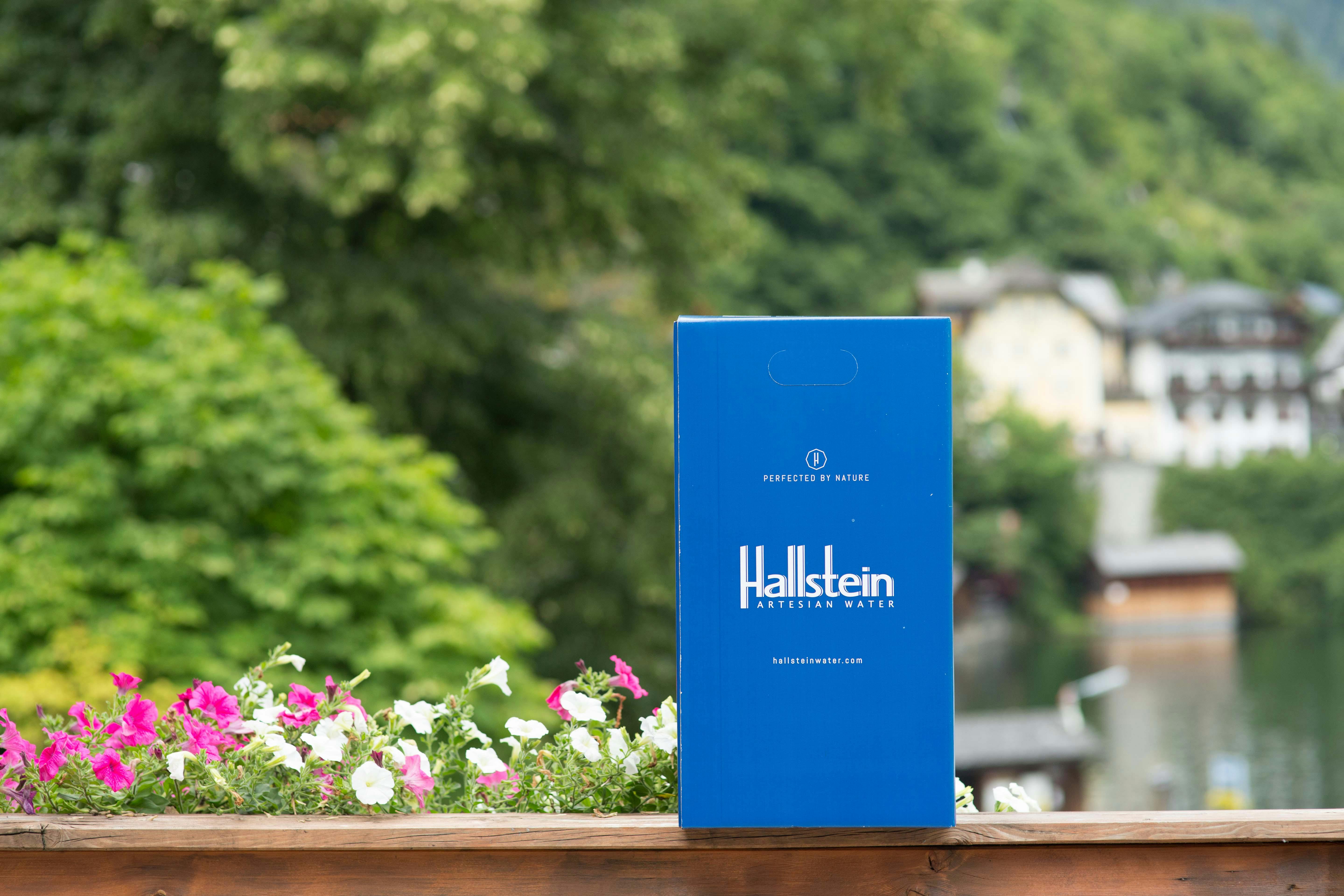 The family started selling Hallstein Water in 2017 to high-end clients, using a subscription model. "A client can redirect their subscription to their second home or their health spa."
This direct-selling model continues today. A case of eight bottles, ordered on subscription costs EUR 62 (£53) or EUR 77 if bought as a one-off.
The company is making inroads into the high-end hospitality market but there are hurdles: many establishments have long-standing agreements with major bottled water companies and there's the issue of limited annual supply.
"We will not be able to blanket the market with our water, so we go specifically after the best restaurants, spas, and hotels."
Today all members of the Muhr family remain involved in the company's operation, with the day to day running in the hands of eldest son and CEO Alexander. His brother, Phillip, is managing director and global head of sales. Daughter Stephanie has stepped back from day to day activities after founding her own business but remains active in organising events.
Family businesses can be a blessing or a curse. Elisabeth is proud at how hers has managed to distinguish between being family and being business partners.
"Our family is still very tight. Sometimes there are disagreements about the business but we have managed not to bring those into our family life."
She's grateful to have had the time with her children to build the business but wouldn't want to hold them back from pursuing other dreams.
"As a mother, I think this was a great opportunity for them to use this experience setting up a start-up for the future but I would not expect them to be in the company for the rest of their lives. We will probably be the faces of the company for a long time but at some point it may be time to bring in professional management."
"A start-up is not fancy – we packed boxes ourselves, our hands were blue and it was tiring but we learnt so much about the operation. It was a great experience."
As a start-up, the business is also far from capacity. Asked to forecast the next five years' of growth, Elisabeth would like the company to achieve 12,000 subscriptions.
"I think we will fill them faster and faster but then we will a waiting list because we can only harvest what Mother Nature gives us.
"We know quite well after all these years how much water comes up from the 250m from its own pressure. And that gives us like about the 15,000 customers. But that's it because we've never ever pump it because the quality of provider would suffer."
The bottled water industry is dominated by multinational businesses, but would the family sell out to them?
"I wouldn't to sell it to a large company because the whole the whole thing would be very different. It would be like wasting all our efforts. A conglomerate might not really appreciate it and besides, because its size, it would always be a small side line to them."
An alternative of course would be to find another water source in which to grow the business.
"We're still looking for other areas," says Elisabeth. "We haven't yet found one."
Yet perhaps that single source is exactly what makes Hallstein Water even more exclusive for customers assured of its health benefits.
https://www.hallsteinwater.com/
The waiter showed us a water menu on an iPad and there, amid at least ten exotic brands of which I had never heard, was Hallstein at £14 a bottle. Within minutes, the waiter appeared again, holding a bottle on the inside of his arm as though it contained fine champagne. "Now taste it," my friend said. "It comes from an aquifer 700ft below the earth's surface in Austria. This is medicine."
Exclusive Interview with Elisabeth Muhr, Co-Founder of Hallstein Water
To make sure that I'm staying hydrated without any excess PFAS or heavy metals, Hallstein Water has been my go-to. It's a premium choice for hydration and a demonstration of the relationship between health and nature. Its exceptional qualities make it a true embodiment of purity and well-being.