Rosewood Vienna is committed to health
The luxury hotel is Vienna's first to offer the worlds purest water: Hallstein!
Unfiltered, untreated, and uncompromised Hallstein from the Dachstein region in Austria is now available in the rooms, the restaurants and bars as well as the fitness center of the luxury hotel Rosewood Vienna. Now the team of the "Neue Hoheit" bar at Rosewood Vienna has created the mocktail Shiso Gin & Tonic with Hallstein just in time for the upcoming fasting period.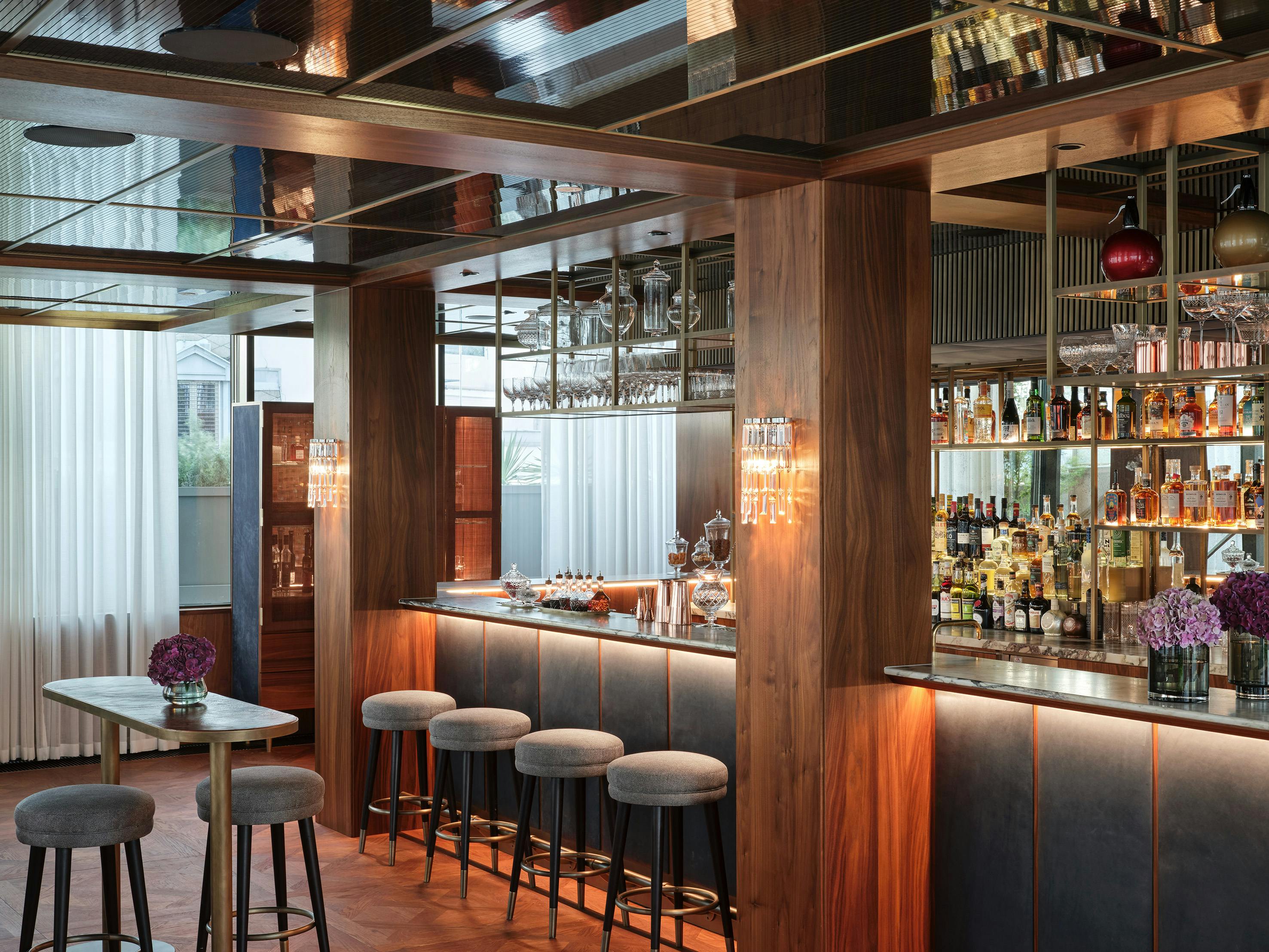 Many celebrity chefs and sommeliers from San Ysidro Ranch in California and Feinkost Käfer in Munich to Senns Restaurant in Salzburg and Steirereck in Vienna love Hallstein: That's because its high pH, high dissolved oxygen level, balanced mild minerals, very low nitrate and organic carbon content, only very moderate total dissolved solids, balanced calcium-to-magnesium ratio, and a low outlet temperature ensure an unspoiled taste, especially when enjoying the finest food and beverages. With these eight important parameters, which no other water in the world meets, Hallstein is also arguably the healthiest water currently available: untreated, unfiltered and unpumped, the highly limited water is simply perfected by nature. Therefore, Hallstein water is ideal for strengthening the immune system. Because only exceptionally pure water helps the body to cleanse itself of all the toxins and supports the immune system, which leads to a reduced risk of inflammations and other problems with health.
Rosewood Vienna is in the heart of the Austrian capital on the Petersplatz, one of the most iconic squares in Vienna's Old Town, surrounded by varied boutiques, restaurants, and historic sites. The beautifully restored 19th-century building features 99 thoughtfully appointed rooms and suites, a distinctive culinary program, and the Asaya Spa with Augustinus Bader products. The vibrant "Neue Hoheit Brasserie" combines innovative Austrian and European cuisine, setting a new standard for culinary delights in the Danube metropolis. The accompanying bar, designed by renowned interior designer Kroenland, features handcrafted furniture, an exquisite wine cellar with rare and exclusive vintages. The bar offers an excellent selection of classic and nine innovative signature cocktails, each representing one federal state of Austria, and of course, Hallstein Water.
About Hallstein Artesian Water:
In the spring of 1999, the Austro-American entrepreneur Karlheinz Muhr, his wife Elisabeth and their three children Alexander, Phillip and Stephanie decided that the family would no longer drink sugary drinks such as juices and lemonades. With this decision, the search began for the "ideal water" and what parameters such pure water would have to have. After the Muhr family had worked out their eight parameters over several years with a team of scientists and water experts, they tested and drank every water available on the market and found that almost every water had been treated in some way. So, with the help of hydrogeologists, they launched a global search to identify the terrain that could produce a naturally pure water that met their eight factors for "perfection". Six years later, their ideal source was discovered in their homeland, in the Austrian Alps: completely untreated, unfiltered, uncompromising, their Hallstein Water bubbles artesically from its source in the Dachstein region.
Alpine Water GmbH
Head Quarter: Ried Ecking 12A, 6370 Kitzbühel
Production: Obertraun 311, 4831 Obertraun
Tel.: +43 720 880 885
contact@hallsteinwater.com
Press contact
ziererCOMMUNICATIONS
Annette Zierer
Effnerstraße 44-46
81925 München
Tel.: +49 89 35 61 24 83 / 88 oder 017623404040
Email: annette.zierer@zierercom.com
The waiter showed us a water menu on an iPad and there, amid at least ten exotic brands of which I had never heard, was Hallstein at £14 a bottle. Within minutes, the waiter appeared again, holding a bottle on the inside of his arm as though it contained fine champagne. "Now taste it," my friend said. "It comes from an aquifer 700ft below the earth's surface in Austria. This is medicine."
Exclusive Interview with Elisabeth Muhr, Co-Founder of Hallstein Water
To make sure that I'm staying hydrated without any excess PFAS or heavy metals, Hallstein Water has been my go-to. It's a premium choice for hydration and a demonstration of the relationship between health and nature. Its exceptional qualities make it a true embodiment of purity and well-being.