This is the World's Rarest Water, and it Can be Delivered Straight to Your Door
The Muhr family, alongside a team of scientists and experts, discovered the world's highest-quality water source in their native Austria. Now, Hallstein Water ships the precious resource to its 15 thousand subscribers around the globe.
"People presume that water is water, but it is really something much more complicated than that," says Phillip Muhr, co-CEO of Hallstein Water. 
When Muhr and his family began ideating and researching for what would become their subscription-based bottled water company over 20 years ago, the wellness industry was still in its infancy. Detoxes and anti-inflammatory diets were not yet water-cooler conversation, but a lot has changed over the course of just a couple decades. Now, as we look for ways to focus on health in every aspect of our lives—from eating organic to switching to clean beauty—why shouldn't the same philosophy extend to the water we drink, as well?
"We have the highest quality of water in the world, which we are very excited about. As Austrians, we want to share this with the world—with the wine lover, the whiskey lover, and the Michelin Star restaurants," says Muhr. "At the same time, we partner with the health industry to supply clinics and hospitals for individuals with specific health conditions related to inflammation. It really is about giving back."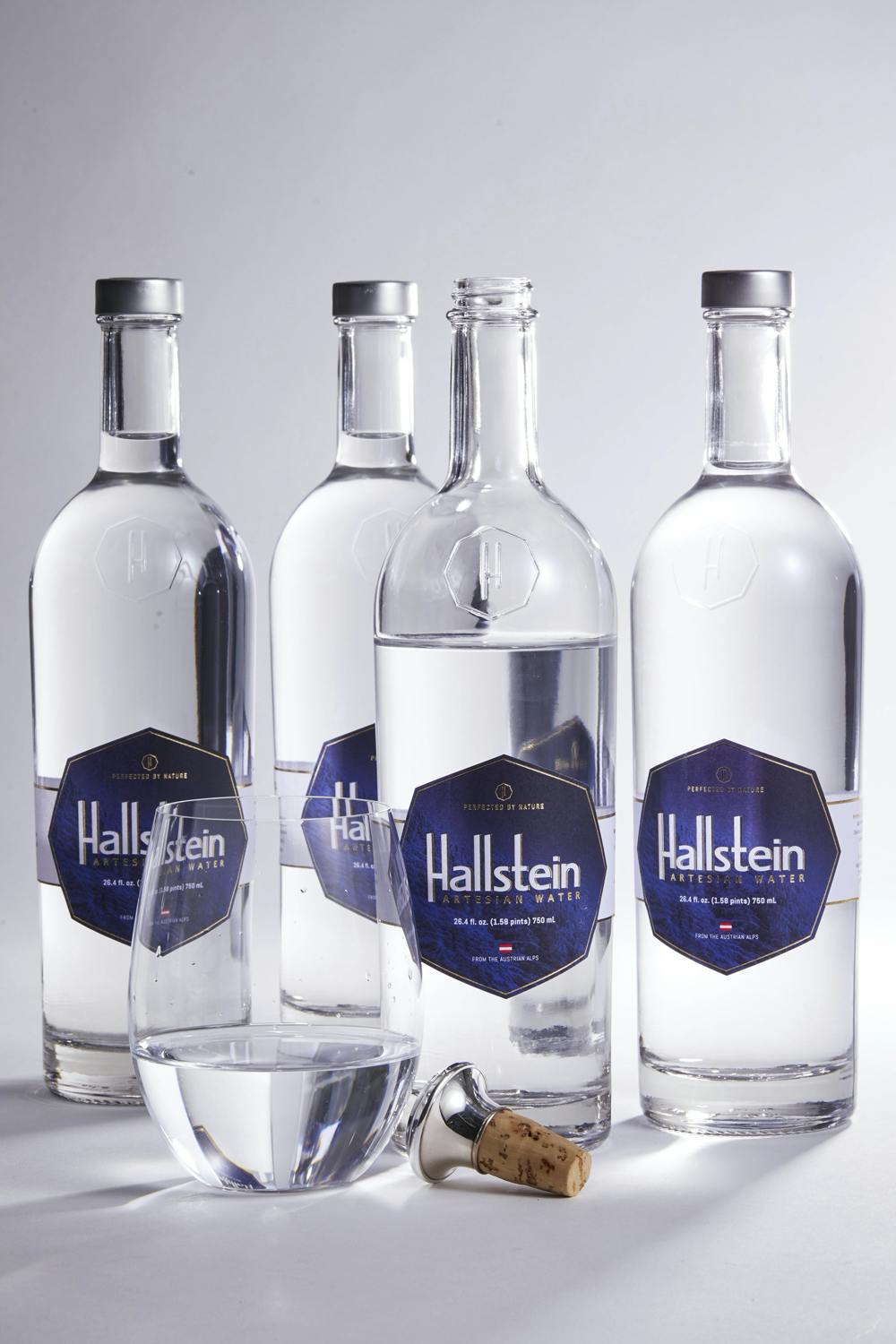 Hallstein began as a search for the best. Well over a decade before wellness influencers began peddling gallon-sized water bottles to their followers, Muhr's father had a think tank, and one member was a leading expert in body inflammation. In addition to cutting out sugar and reducing alcohol intake, the expert stressed the importance of hydration in reducing inflammation in the body. The Muhrs then decided to make drinking water a priority, and if they were to truly reap the benefits, they would need to find the best bottled water possible. The only problem was, nothing on the market was good enough. 
The idea for Hallstein came during a conversation around the dinner table. "My father, who is also a big wine lover, was sitting in front of a glass of burgundy, and he said, 'How do I know so much about this glass of burgundy and nothing about the most essential part of our human body?'" says Muhr. That's when the 6-year journey began. The Muhrs hired hydro-geologists to scour the globe in search of the highest quality water, using eight core parameters as their criteria. Coincidentally, that water source was found in the Muhrs' native Austria.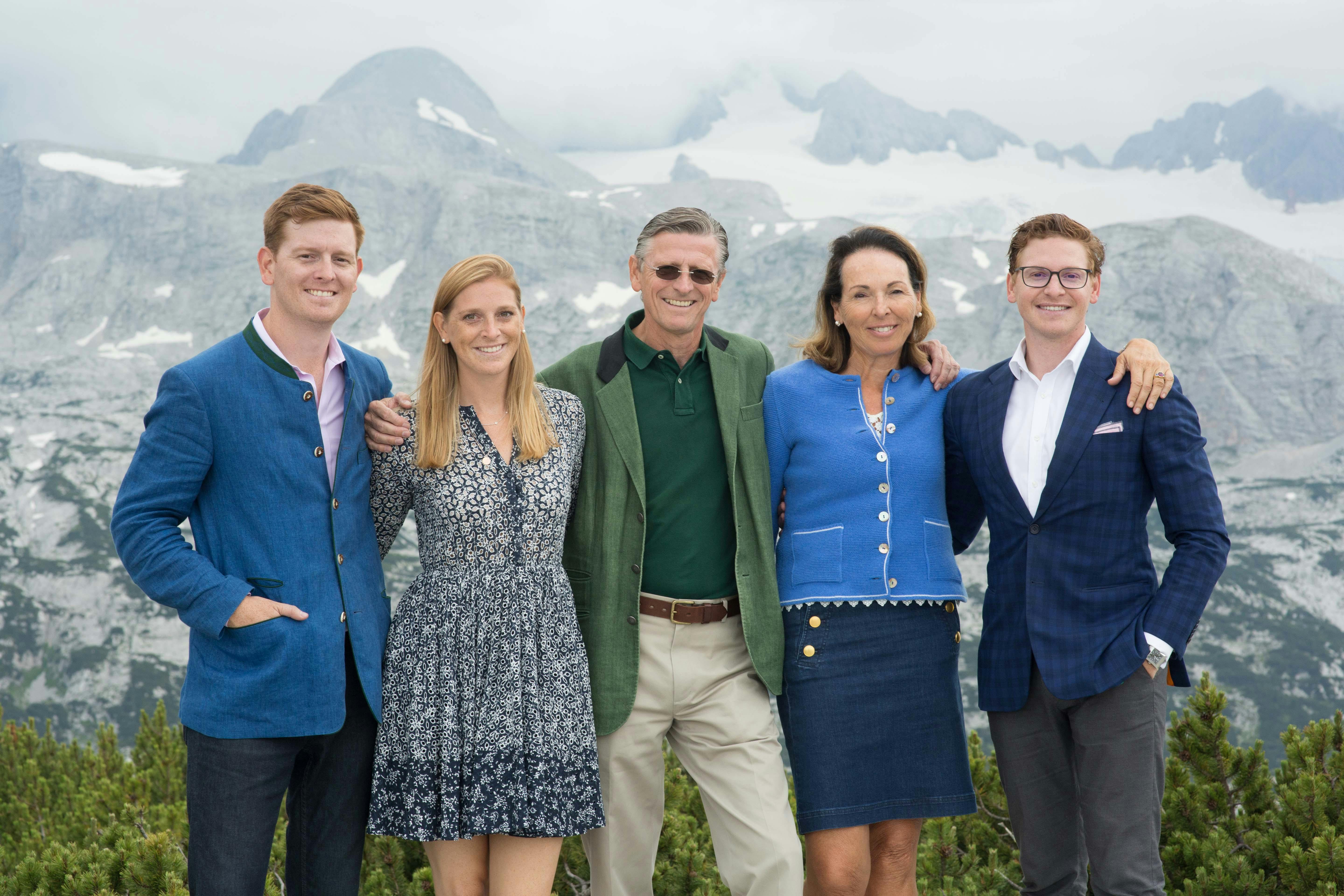 In their search, the Muhrs were looking for water that was high in natural alkalinity, low in sodium, high in dissolved oxygen, low in nitrates, low in total organic carbon, moderate in total dissolved solids, had an ideal ratio of calcium and magnesium, and finally, had a low exit temperature. These parameters all came together deep in an artesian aquifer in Austria's Hallstatt region. Though the family is still searching, they have not found another acceptable water source since. "In the wine industry, there's a term called "terroir" which is a culmination of all the different parameters," says Muhr. "It's the slope of the sun, it's the slope of the hill. It's the mixture between the sand and the terracotta. There's a specific region called the DRC—the Domaine de la Romanée-Conti in Southern France—where God pointed his finger and said, "This is where all of the parameters come together." We look for those special geological sites but specifically for water."
Hallstein water is naturally filtered through limestone in a process that takes eight to 10 years, and is bottled straight from the source, sans any pumping or treatment. "This is a water that has been perfected by nature," says Muhr. "When it comes to the health aspects of drinking water, it's not just about hydration, it's about optimum hydration."
Our body's natural pH is between 7.35 and 7.45, and "since we eat and drink a lot of acidic foods, the body has an inflammatory reaction where it's fighting to find its balance again, which can cause osteoporosis, acid reflux, and hypertension. To neutralize this acidity, we should drink alkaline water," says Muhr. To achieve a high pH, many companies will treat their water with sodium, which Muhr points out can actually be dehydrating.
Everything we do is not only about not compromising quality, but also delivering our water in the most sustainable way.
Beyond the water's health benefits, Hallstein has found fans in the culinary space Michelin Star chef Kurt Gutenbrunner has chosen Hallstein for each of his New York City restaurants, including Café Sabarsky and Wallsé. Of course, the brand's wine-centered origin story has not been forgotten, and Hallstein also partners with 67 Pall Mall in London, an exclusive member's club for wine lovers. "When you're drinking a bottle of wine, many sommeliers will oxygenate the wine to open up the different notes," explains Muhr. "Hallstein is very high oxygen, so when you drink our water it neutralizes and cleanses the palate rather than leaving an aftertaste. When you're drinking a good bottle of wine, or when you're eating a very good meal, you don't want to compromise the complexity that the chef is creating. [Hallstein] compliments the food and drink that you're about to enjoy."
For all the emphasis around Hallstein's purity, one would expect the water itself to also have a pleasant taste beyond what comes out of your Brita—and it does. "It's like a sweet, silky, velvety taste, and every time you swallow it, it feels good. It's like the body knows when you're having something that's good for yuou" says Muhr. 
As the CEO of a bottled water company, Muhr acknowledges the importance of sustainability in all that Hallstein does. "Everything we do is not only about not compromising quality, but also delivering our water in the most sustainable way," he says. "We don't want to obstruct the geological location or disturb the surrounding area, so we do impact testing each year."
The bottles are made from 100 percent recycled white glass, the ink is non-toxic, and all packaging is biodegradable. The Hallstein factory's temperature is regulated through geothermal heating and cooling, and building materials used are local, recycled, and ecologically friendly.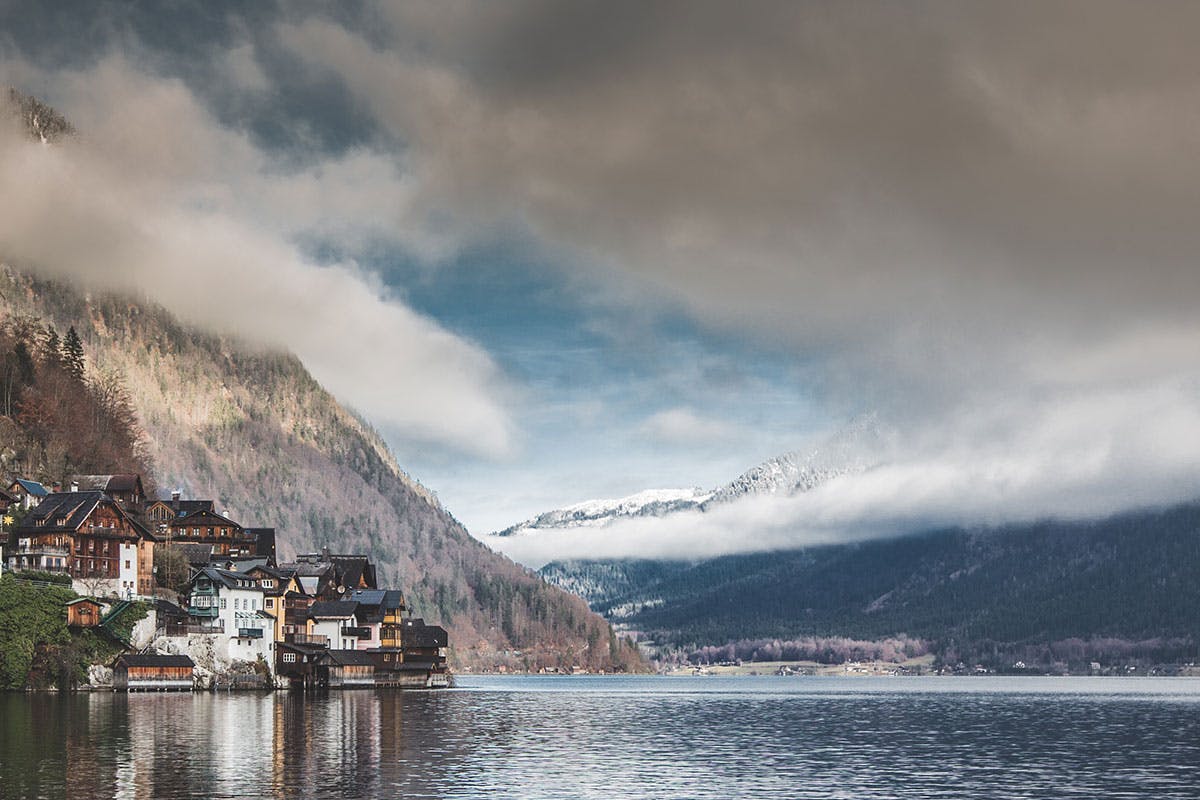 In addition to Hallstein's commitment to offsetting their carbon footprint, the company also wants to give back. By partnering with a nonprofit organization called Operation Water, which provides sustainable water solutions to communities in Mozambique, Hallstein provides a family with a lifetime supply of water for every subscription purchased. 
By focusing on health, food, sustainability, and charity, Hallstein is rethinking what bottled water should be. "With how rare this water is, it's unbelievable that we were able to find it and bring it to market. It is the ultimate source of hydration for the body on the health side and is also the ultimate companion for the wine and food connoisseur," says Muhr. 
"Every new subscription is joining the family and the mission," Muhr says. "Doing something good for yourself and your family while also doing something good for others."
The waiter showed us a water menu on an iPad and there, amid at least ten exotic brands of which I had never heard, was Hallstein at £14 a bottle. Within minutes, the waiter appeared again, holding a bottle on the inside of his arm as though it contained fine champagne. "Now taste it," my friend said. "It comes from an aquifer 700ft below the earth's surface in Austria. This is medicine."
Exclusive Interview with Elisabeth Muhr, Co-Founder of Hallstein Water
To make sure that I'm staying hydrated without any excess PFAS or heavy metals, Hallstein Water has been my go-to. It's a premium choice for hydration and a demonstration of the relationship between health and nature. Its exceptional qualities make it a true embodiment of purity and well-being.